Zoocasa > Blog post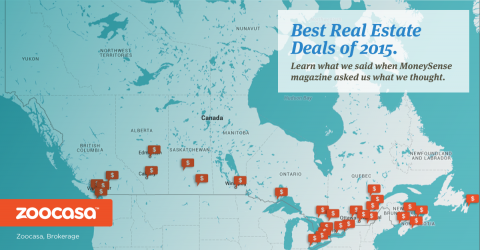 Canada's best deals for 2015: As ranked by MoneySense magazine and Zoocasa Preferred Agents.
At Zoocasa, we like to say that the right real estate agent makes all the difference. But truth be told, having the right tools at your fingertips goes a long way too.
One tool that's helped Zoocasa Preferred Agents – and their clients – immeasurably over the last few years is MoneySense magazine's rating of Canada's top real estate markets. Each year, MoneySense magazine pours over housing prices and trends to discover where home prices are most likely to keep rising. It applies its ranking system to Canada's largest cities plus every single neighbourhood in Vancouver, Calgary, Toronto and Montreal, so home buyers can figure out how to find "The Best Deals in Real Estate".
But it turns out the love goes both ways.
Client: Zoocasa
Agency: Noggin Advertising
Copy Writing: Terry Levine
Art Direction: N/A
Media: Corporate blog